Home / Quest Help / Recipe for Disaster - Subquest VIII: King Awowogei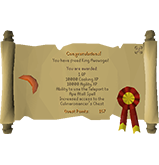 Recipe for Disaster - Subquest VIII: King Awowogei
Availability:
In stock
999999999
Quick Overview
Time: 2 hours

Requirements:

Quests: Recipe for Disaster - Starting Out, Monkey Madness I

Skills: Level 70 Cooking, Level 48 Agility, The ability to defeat a level 84 Big Snake.

Others: You must have the M'speak amulet and the Karamjan monkey greegree in bank.

Reward:

10,000 Cooking experience

10,000 Agility experience

Ape Atoll Teleport spell

Further access to the Culinaromancer's Chest.

Quest points gained upon completion: 1
Details
Awowogei needs his favourite food, but nobody seems to know what it is. Maybe you should go talk to him in his palace.