Home / Quest Help / Recipe for Disaster - Subquest VII: Sir Amik Varze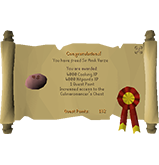 Recipe for Disaster - Subquest VII: Sir Amik Varze
Availability:
In stock
999999999
Quick Overview
Time: 2 hours

Requirements:

Quests: 107 Quest Points, Recipe for Disaster - Starting Out, Waterfall Quest, Started Legends' Quest up until gaining access to the Kharazi Jungle.

Skills: Level 25 Cooking, The ability to defeat a level 227 Black dragon (Can be safespotted.).

Reward:

4,000 Cooking experience

4,000 Hitpoints experience

Access to the Evil Chicken's Lair, where you can fight black dragons.

Further access to the Culinaromancer's Chest.

Quest points gained upon completion: 1
Details
Sir Amik Varze requires a crème brulee supreme. Talk to the Cook to learn how to make one in this complicated but fun subquest.